What I remember most about being molested as a child was when the man told me, "You used to like it." Hearing this from a family friend was alarming and something that stayed with me, shaping my relationships for decades.  It was a little thing, only five words! but had incredible ramifications. Even today, I push it away, unable to remember if indeed, I did used to like it, or if it was only a way to keep me quiet, afraid, and beholden to my abuser.
I know there are many survivors out there who have shared what they remember in an allegiance with Dr. Ford. All these little acts of giving are chipping at the wall of silence that has been built by abuse and manipulation. And so for this week, I was hoping you would join me in thanking Dr. Ford with a card or letter.
Dr Christine Ford
C/o Palo Alto University
1791 Arastradero Rd
Palo Alto CA 94304
I want her to know, more than anything, that sharing what she remembered was a profound act of bravery and a step closer to truth and justice even if it doesn't feel like it now, even if she had to pay such a high price. The wall of silence will come down. We will be heard. #metoo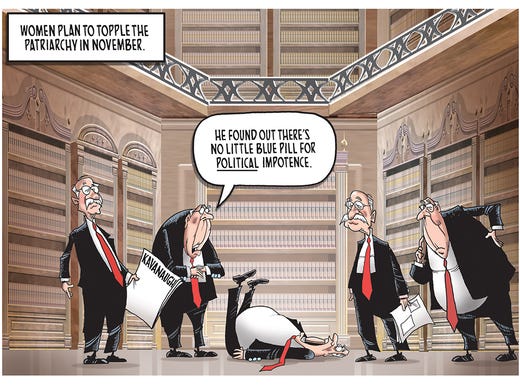 A tiny little ray of hope:
https://www.crowdpac.com/campaigns/387413/either-sen-collins-votes-no-on-kavanaugh-or-we-fund-her-future-opponent
Only a few more days to register to vote!
Here's the link if you need it:
https://www.sos.state.oh.us/elections/voters/register/
Feminist Art for the Week
This week I want to introduce you to Jess Maybury. A model and photographer, she never seems to smile. Aren't we forever being told to smile? Not her. Beautiful. Unapologetic. Unsmiling.
Her instagram: https://www.instagram.com/jessmaybury/
Her London agency page: https://www.elite-collective.com/representation/jess-maybury
And a story about her and her sister: https://i-d.vice.com/en_uk/article/qvbbd3/jess-and-reba-maybury-are-fashions-favourite-twisted-sisters
Till next week!